Every football fan tends to think their quarterback is underrated – even Chiefs fans. However, when it comes to Jets fans and Sam Darnold, our complaints are completely true. Sam Darnold gets a ridiculous amount of disrespect from the average NFL fan. In reality, Darnold is a very good QB who had been thrust into the worst possible situation for a young QB, a situation very similar to Josh Rosen, yet he has kept his head above the water.
For starters, Darnold was the youngest QB in the Super Bowl Era to start week 1 in his rookie year, and he remains still one of the youngest QB's in the NFL despite being about to enter his 3rd year. Not only was he historically young, but he has faced an unearthly amount of adversity in just 2 seasons in the league. The Jets had absolutely no supporting cast around him from the start. A historically bad offensive line in both of his seasons so far, and no great weapons around him besides Le'Veon Bell, who could never get much going due to the atrocious O-line in front. At the very beginning of year 2, Darnold was sidelined for a month with mononucleosis, a disease that leaves victims often looking like they've just been to hell and back. Even after coming back from mono, Darnold was pressured at the highest rate in the NFL, on 42% of his dropbacks. When pressured at league average rate, Darnold led the Jets to a record of 7-1 and the offense scored an average of 29 points per game. LEAGUE AVERAGE RATE! Imagine what Darnold could do with an OL that is not only average, but slightly ABOVE average? He'd be easily a top 10 quarterback.
One of the main reasons for the incessant Darnold disrespect is his infamous "seeing ghosts" game on Monday Night Football last October against the Patriots. Far and away Darnold's worst game of his career, he threw for 86 yards and 4 INT's. But what is most infamous is what ESPN picked up on the sideline for their "Mic'd Up" segment and broadcast on national TV. After another unsuccessful drive, Darnold went to the sideline and said, to no one in particular, "I'm seeing ghosts out there." Although this is not an uncommon phrase for a QB on an off day, for the average NFL fan this one sentence is all they know about Sam Darnold. When they think Darnold, they think ghosts and interceptions. Which is really a shame, because Darnold has shown plenty of times that he can carry an offense entirely by himself. Just DAYS after being medically cleared from mono by team doctors, Darnold took the field week 5 against the Dallas Cowboys and piloted the Jets to their first victory of the season, throwing for 338 yards and 2 touchdowns, as well as setting up a Le'Veon Bell goal-line plunge. Despite being handicapped by the worst offensive line in football, Darnold was extremely impressive in the 2nd half of the season, with a 6-2 record. Things like that are what only Jets fans know, and why we are so defensive of our QB. Because we know he's a very good player, and we know he is the most unfairly disrespected player in the NFL.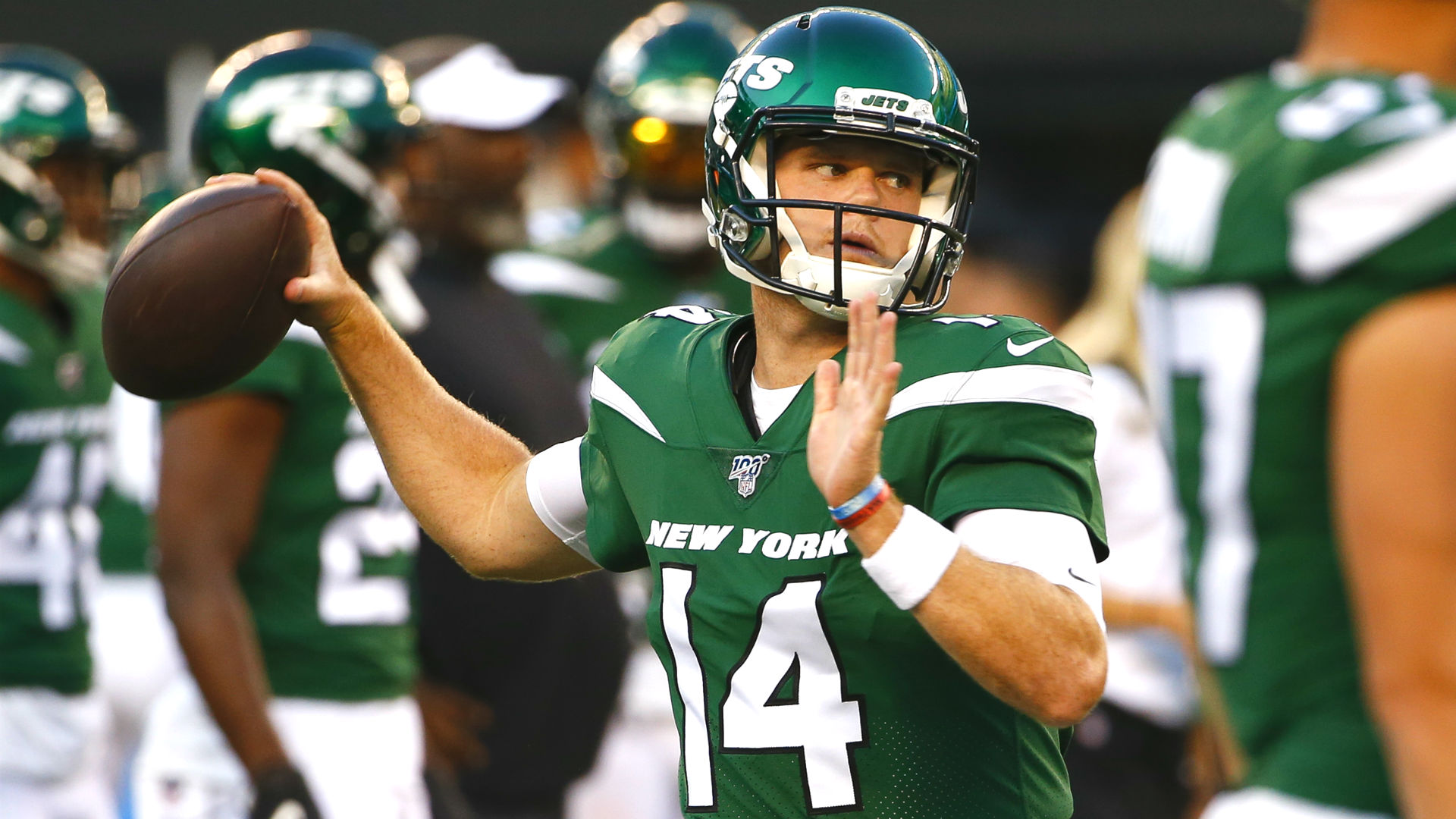 Given the 2020 season happens, Sam Darnold could see a huge leap of improvement and success. New GM Joe Douglas made Darnold's protection and development the single most important part of the offseason. He signed the best center on the market in Connor McGovern to provide consistently great center play and help the young franchise arm read defenses. He resigned the Jets one decent lineman from last season, LG Alex Lewis. He signed veteran Greg Van Roten to compete with Brian Winters at RG, and George Fant to likely start at RT over 2nd year youngster Chuma Edoga. Most importantly, however, he drafted Sam Darnold's blindside protector in Louisville LT Mekhi Becton with the 11th overall pick in the draft, and then followed this up by managing to snag a WR with 1st round talent in Denzel Mims at pick 59 the following night. Becton, Mims. and McGovern are the most important offseason additions, and will make Darnold's life mush less of a challenge. Behind this new and improved offnsive line, Darnold hopefully will not be running for his life the whole game, and can focus on reading coverages, setting his feet, and stepping into his throws. For the past 2 years us Jets fans have been saying to everyone, "imagine what Darnold could do in a better situation." In 2020 and beyond, we get to finally see what we know he can do, and we can watch him put the rest of the NFL on notice. The Jets are finally coming back.