Training camp for all NFL teams seems to finally be around the corner. Before it starts, lets take a look at the top 5 most interesting position battles to keep an eye on when it does finally start.
5. Interior Defensive Linemen
Last year, DC Gregg Williams did a ton of rotating along the defensive line, rotating guys like Foley Fatukasi, Steve McLendon, Nathan Shepherd, and 2019 first round pick Quinnen Williams. In the base 3-4 defense, there would be a battle between 2018 6th round pick Folorunso Fatukasi, who enjoyed a breakout season in 2019 under Gregg Williams, and 34 year old veteran Steve McLendon, who flew under the radar last year with quite a solid season. There would also be battles at both defensive end spots, with Henry Anderson, Quinnen Williams, Nathan Shepherd, and Kyle Phillips all competing for 2 starting spots. Williams had an underwhelming rookie campaign, but was dogged with an ankle sprain that never fully healed. He has gotten into insanely good shape in the offseason, and could see a huge leap in productivity in year 2. Kyle Phillips was a rookie UDFA last year, but was pretty solid in general, and even dominant against the run. He finished tied for 3rd last season among all DE/OLB in tackles for loss against the run. Nathan Shepherd was a 2018 3rd round pick who, similarly to Foley Fatukasi, enjoyed increased success in 2019 under Gregg Williams, despite missing significant time due to suspension.
My prediction: Quinnen Williams and Henry Anderson will start at the two DE spots, and Steve McLendon will start at NT. This will give the project-type players more time to learn, develop, and hone their craft while also contributing a lot due to Gregg Williams tendency to rotate the DL very frequently.
4. Linebackers
While 3 of the 4 starting spots for the linebackers are almost certainly locked up, with CJ Mosley and Avery Williamson starting at ILB and Jordan Jenkins starting at one OLB spot, the battle for the 2nd OLB spot and the jostling for position behind Mosley and Williamson should be quite interesting. At OLB, the Jets really have 2 options for the 2nd starting spot. They could go with Tarell Basham, who was okay last year in his backup role, or they could go with 3rd round pick out of Florida Jabari Zuniga. Zuniga, who redshirted and played 5 seasons in college, dealt with some injuries during his time at Florida but is a solid rusher who is not going to win with speed or finesse, but rather with power. As long as he stays healthy, he will likely be in a heated competition with Basham. Also, the Jets got a huge UDFA steal in EDGE Bryce Huff out of Memphis. Huff could see a fair amount of playing time, as Gregg Williams works to develop him into a solid pass rusher and get outstanding value out of an undrafted free agent. As for the ILB position, the spots behind Mosley and Williamson are completely up for grabs. Offseason addition Patrick Onwuasor, who played with Mosley in Baltimore, seems to be the favorite for the 3rd ILB spot (1st backup). However, Neville Hewitt, whom Gregg Williams thinks highly of, could provide stiff competition. Behind Onwuasor and Hewitt, there is likely only 1 more spot on the 53 man roster, and 2 players who could occupy it. 2019 5th round pick Blake Cashman and James Burgess will be battling for this spot. Cashman, who was ahead of Burgess on the 2019 depth chart but tore his labrum after starting 5 games, is a bit undersized for the position, and had already had surgery on both shoulders in college. He is more skilled than Burgess, however, and Gregg Williams thinks he can teach Cashman to play bigger, then Cashman will likely slide into that 5th ILB role, or 3rd backup, and Burgess will be cut.
My prediction: Tarell Basham starts the season at the 2nd OLB spot, but Zuniga could still see the field fairly often and eventually take over the starting role. I also predict the depth chart order for ILB will be Mosley, Williamson, Onwuasor, Hewitt, Cashman, with Burgess either getting cut or moved to the practice squad.
3. Wide Receivers
In 2020, the Jets WR core will look very different than it did in 2019. The only returning starter as of now is slot WR Jamison Crowder, who quietly had a very good season for the Jets last year. They lost their best outside WR, Robby Anderson, to the Panthers in free agency. However, they signed boom or bust piece Breshad Perriman to a cheap 1 year prove-it deal to replace Anderson. Perriman is a former 1st round pick who never quite lived up to that selection. However, in the 2nd half of last season, he was one of the best wide receivers in the entire NFL. Joe Douglas and the Jets are hoping they got closer to that Breshad Perriman, and not the bust player that he was before 2019. Besides Perriman, they also drafted the star WR from Baylor, Denzel Mims, in the 2nd round. In addition to Mims and Perriman on the outside, the Jets have returning veteran Vyncint Smith, who has been a career backup but many in the organization think has untapped potential. Behind Smith, there is Braxton Berrios, the teams punt returner, and 2 UDFA's Lawrence Cager and George Campbell. Cager in particular has a pretty good chance to make an impact in 2020, especially in the red zone, given his huge frame at 6 foot 5, 220 pounds. Lastly, the Jets also signed former 1st round pick Josh Doctson to back up Jamison Crowder at slot WR.
My prediction: Breshad Perriman is the X receiver, the #1 outside WR, and Denzel Mims starts at the Z, #2. Jamison Crowder starts at Y, in the slot. I believe the depth chart at outside WR would be, in order; Vyncint Smith, Braxton Berrios, Lawrence Cager, George Campbell. Additionally, I also believe that the Jets will sign Demaryius Thomas before the season starts, and he would slide in behind Smith on the depth chart. Doctson and Josh Bellamy will back up Crowder in the slot.
2. The Offensive Line
The O line was no doubt the focal point of this past offseason for the Jets. They brought in many new faces, and got rid of almost every starter from week 1 last season. In free agency, they signed tackle George Fant from Seattle, guard Greg Van Roten from Carolina, center Connor McGovern from Denver, as well as a depth addition in center/guard Josh Andrews from Indianapolis. The Jets also made additions to the line in the draft, taking tackle Mekhi Becton in round 1 and tackle/guard Cameron Clark in round 4. They also have a few familiar faces returning, such as guard Alex Lewis, backup center/guard Jonotthan Harrison, guard Brian Winters, and tackle Chuma Edoga, a 2019 rookie. There was little doubt that Joe Douglas would make the O line a priority, given the horrendous performance from the unit the entire 2019 season. Douglas, a former lineman himself, understands that games are won and lost in the trenches. It's uncertain what exactly the line will look like come week 1, especially given the shortened training camp and virtual offseason.
My prediction: Mekhi Becton starts at LT, and George Fant would take over in a scenario where Becton can't play. Alex Lewis starts at LG, and Greg Van Roten backs him up. Connor McGovern starts at center, backed up by Jonotthan Harrison, who was the starter last year after Ryan Kalil went on IR. Brian Winters starts at RG, also backed up by Greg Van Roten, with Josh Andrews serving as additional depth for both guard spots. Lastly, I predict George Fant will start at RT, backed up by Chuma Edoga, who will play RT in an injury scenario to either Becton or Fant.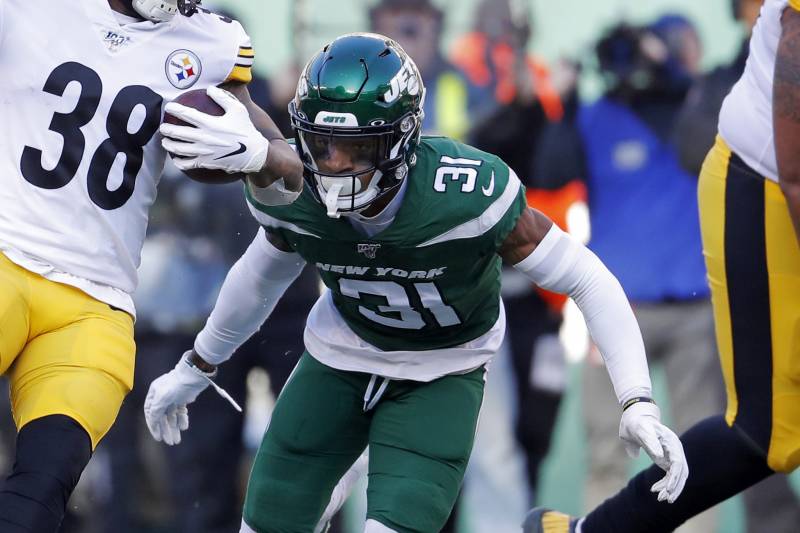 1. Cornerbacks
By far the most interesting position group for the Jets entering the 2020 season is the CB group. This is because it is extremely deep, but with no real stars. The best outside CB is no doubt Pierre Desir, and Brian Poole will always be manning the slot when healthy. But after Desir, things get very interesting on the outside. 2019 6th round rookie Blessuan Austin had a solid rookie year, playing his first game week 10 against the Giants in the battle of NY. He showed a lot of ability, and is probably the favorite to start at CB2 week 1. However, the Jets also added 2017 2nd round pick Quincy Wilson via trade from the Colts on day 3 of the draft, and he is a PERFECT fit in the Gregg Williams defense, who loves to play press man coverage. In addition, the Jets have pieces like Arthur Maulet, Nate Hairston, as well as rookies Bryce Hall and Lamar Jackson. Hairston was acquired last year for a conditional 6th round pick, but the conditions were not met and the Jets got to keep the pick. Maulet was picked up off the scrap heap last season as well, but played pretty solid, and could find his way into a prominent backup role in 2020. Bryce Hall was arguably the steal of the entire draft, a 2nd round prospect when healthy who fell all the way to the late 5th round due to injury and lack to evaluate his injury due to COVID-19. If Hall can fully recover from his injury, he could become a starting outside corner very fast. Lastly, Lamar Jackson was another great value addition, and 5th-6th round prospect who the Jets got as an undrafted free agent. Jackson is very big and not particularly fast, so he could profile more as a safety, but can also play CB if push comes to shove.
My prediction: I believe Pierre Desir at CB1 and Brian Poole in the slot are pretty much locks, barring injury. As for CB2, I expect Bless Austin and Quincy Wilson to be in a tight competition, but I believe Wilson will win the starting job. As for the depth chart behind Desir and Wilson, I believe the order will be; Bless Austin, Arthur Maulet, Bryce Hall, Nate Hairston, Lamar Jackson. As depth for the slot CB position, the Jets have Ashtyn Davis, the ultra-versatile rookie DB out of Cal, who can play the slot as well as both safety positions.
With so many positions up for grabs, its easy to see why Jets training camp will be so interesting when it finally starts. Here's hoping for a healthy camp for all players, and stiff but healthy competition between them.