The first mock draft of the 2021 season is finally here. The draft order is via Tankathon, and there are no trades in this mock draft.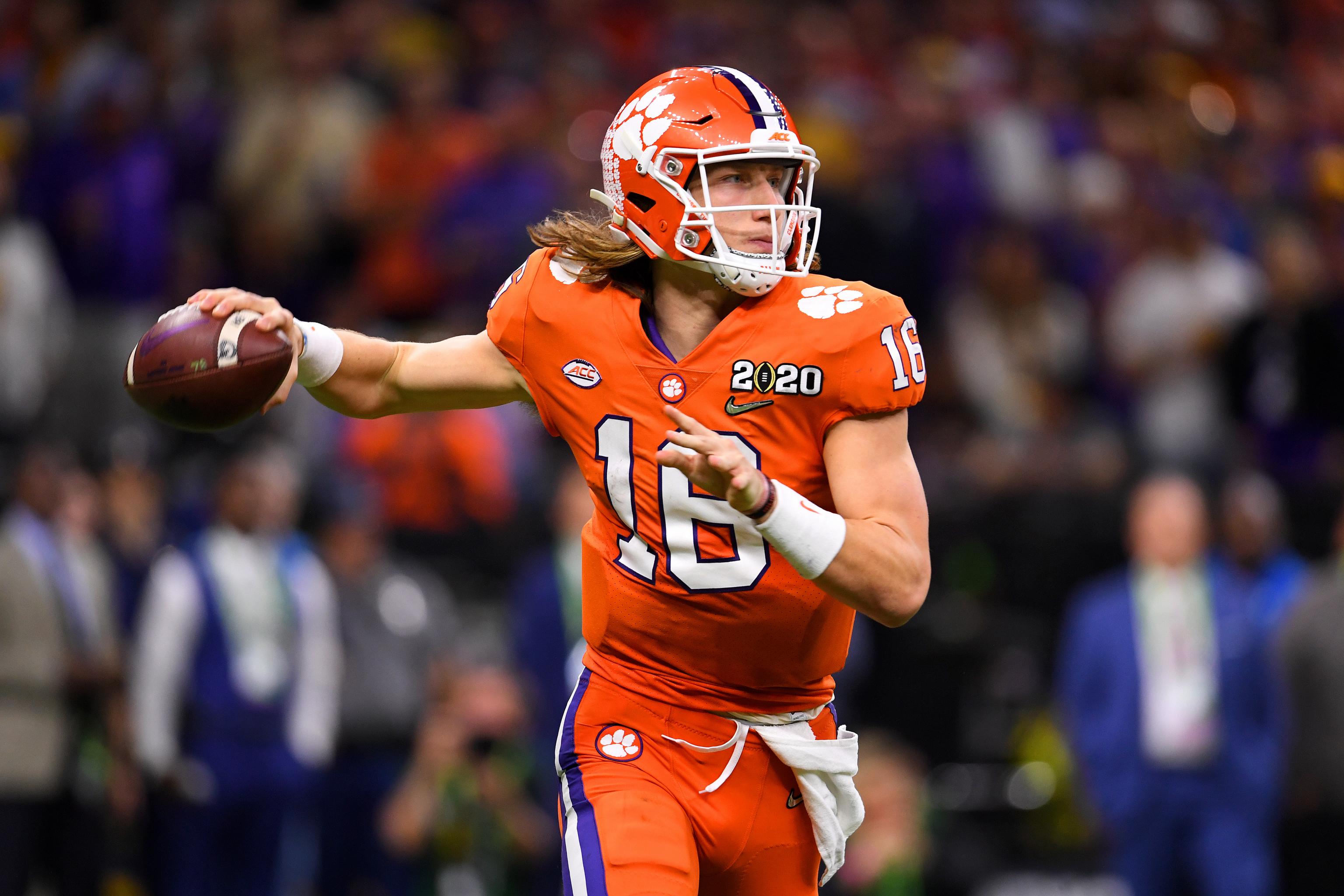 Pick #1: New York Jets – TREVOR LAWRENCE (QB, Clemson)
This pick is as close to a sure thing as it gets. Whoever ends up picking first overall is going to take Trevor Lawrence. Given where we are in the season, it is a 2 team race for the first overall pick between the 0-12 Jets and the 1-11 Jacksonville Jaguars. After somehow finding a way to lose in the last 10 seconds of the game last week against the Raiders, the Jets remain in the drivers seat to snag the best QB prospect to enter to draft since at least Andrew Luck.
Pick #2: Jacksonville Jaguars – JUSTIN FIELDS (QB, Ohio State)
While the Jaguars lose out on Trevor Lawrence, they get the best consolation prize in years. Fields would be the #1 overall pick in nearly any draft that doesn't have Trevor Lawrence, and the Jaguars need a replacement for Gardner Minshew, who isn't a starting caliber QB in the NFL. Lawrence and Fields are pretty much locks for picks 1 and 2.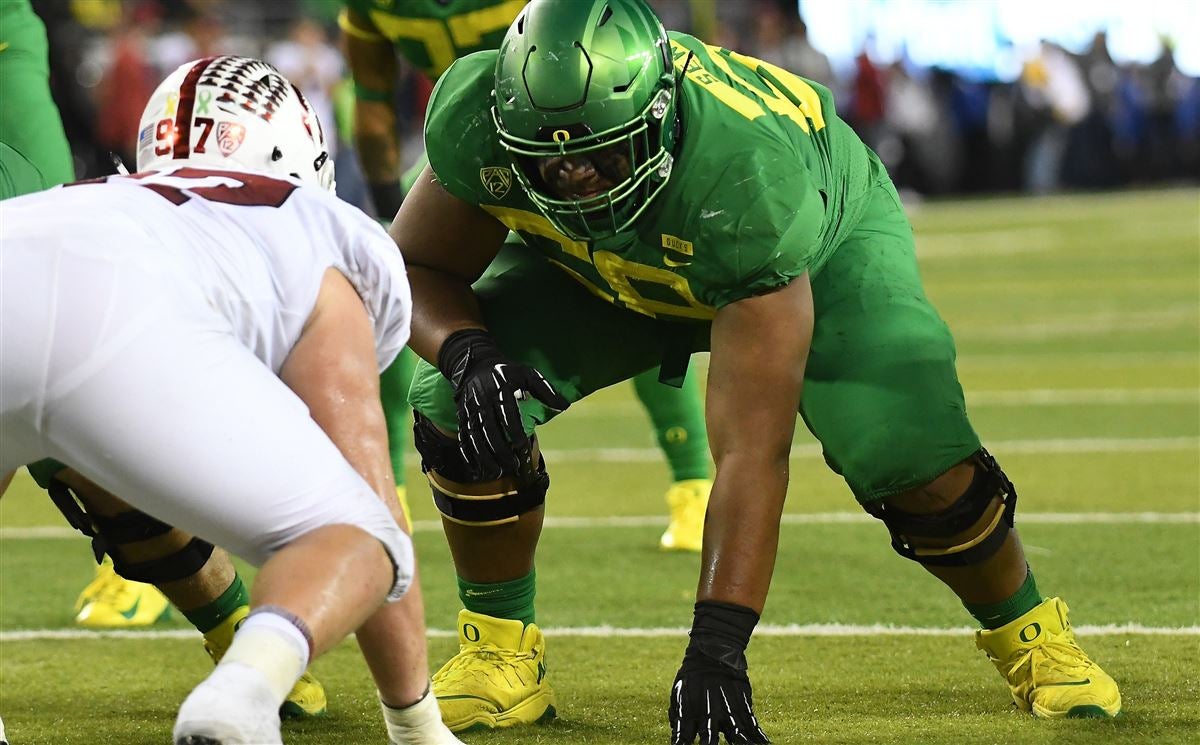 Pick #3: Cincinnati Bengals – PENEI SEWELL (OT, Oregon)
Before the season even started, everyone knew the Bengals offensive line was awful. Once the season started, we realized it was worse than awful. Joe Burrow took an inhuman amount of punishment behind the worst offensive line in football, before taking a brutal hit that tore his ACL, MCL, and dislocated his knee. He will hopefully be ready for week 1 in 2021, but the Bengals need to keep him upright. They select the best tackle prospect to enter the draft in years in Penei Sewell to play left tackle, and they can now slide 2019 first round pick Jonah Williams over to right tackle.
Pick #4: Dallas Cowboys – PATRICK SURTAIN II (CB, Alabama)
The Cowboys defense has been flat out awful. They can't stop the run or the pass with any type of consistency. After letting Byron Jones walk last March, they finally replace him a little over a year later with Surtain. Surtain has been the best cornerback in college football, and he's done it in the SEC against the best competition. He plays outstanding man coverage and can completely erase the opponents best wide receiver from the game. For a defense that needs a whole lot of replacements, Surtain is an excellent start.
Pick #5: L.A. Chargers – CHRISTIAN DARRISAW (OT, Virginia Tech)
This would likely be a spot where the Chargers would trade down with a team that wants to move up for their pick of the remaining QB's and take Darrisaw around pick 10. However, with no trades in this mock, I have them reaching down the board a bit and taking Darrisaw at 5. He is 6 foot 5 with long arms, and is very smooth and athletic. He would fit the Chargers run scheme very well, and plug in seamlessly on the left side opposite last years free agent signing Bryan Bulaga. Protecting Justin Herbert's blind side is a must, and the Chargers find an excellent solution here.
Pick #6: Philadelphia Eagles – JA'MARR CHASE (WR, LSU)
The Eagles have a lot of needs. They could use a linebacker, and possibly a corner given Darius Slay's age and health. However, their biggest need in my opinion is wide receiver. Regardless of who is starting for Philly next year, whether it be Carson Wentz or Jalen Hurts, they need better weapons to throw to. Alshon Jeffery is on the decline, and while Jalen Reagor and Travis Fulgham are decent, they need a true number 1 receiver. Ja'Marr Chase is that guy. The best receiver in college football last year, he opted out this season due to Covid-19 concerns, but that hasn't affected his stock one bit. He should absolutely be the first receiver drafted come April.
Pick #7: Carolina Panthers – MICAH PARSONS (LB, Penn State)
After Luke Keuchly's shocking retirement in January, the Panthers have had a void in the middle of their defense. They finally are able to fill it here with Parsons, who is arguably the best defensive player in the entire class. Stout against the run, great in coverage, and has the football IQ to lead the defense. This is a no-brainer pick for the Panthers.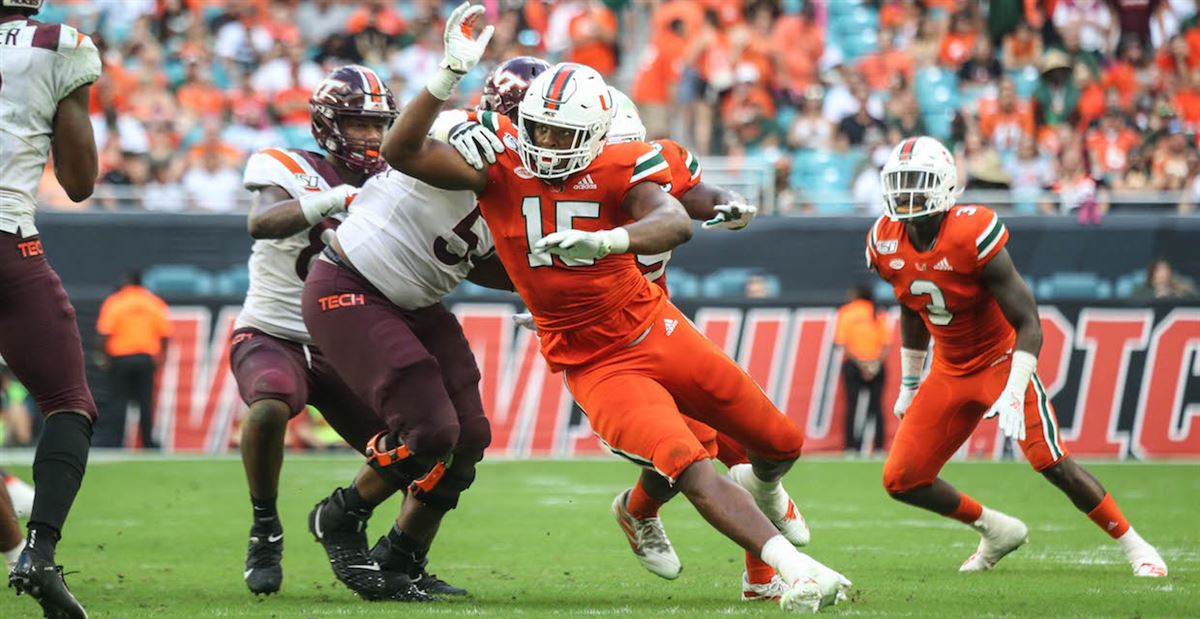 Pick #8: Atlanta Falcons – GREGORY ROUSSEAU (EDGE, Miami)
The Falcons have been a disappointment, but it isn't the offenses fault. The defense has been absolutely awful all season. One way to fix it? Draft the best edge rusher in the class, a physical freak in Gregory Rousseau. He is 6 foot 7, 265 pounds, and is relatively raw technically. However, with the physical traits he has, the potential is through the roof, and with proper coaching he could be wearing a gold jacket in 20 years. Takk McKinley didn't work out, so the Falcons take another swing at solving their pass rush woes.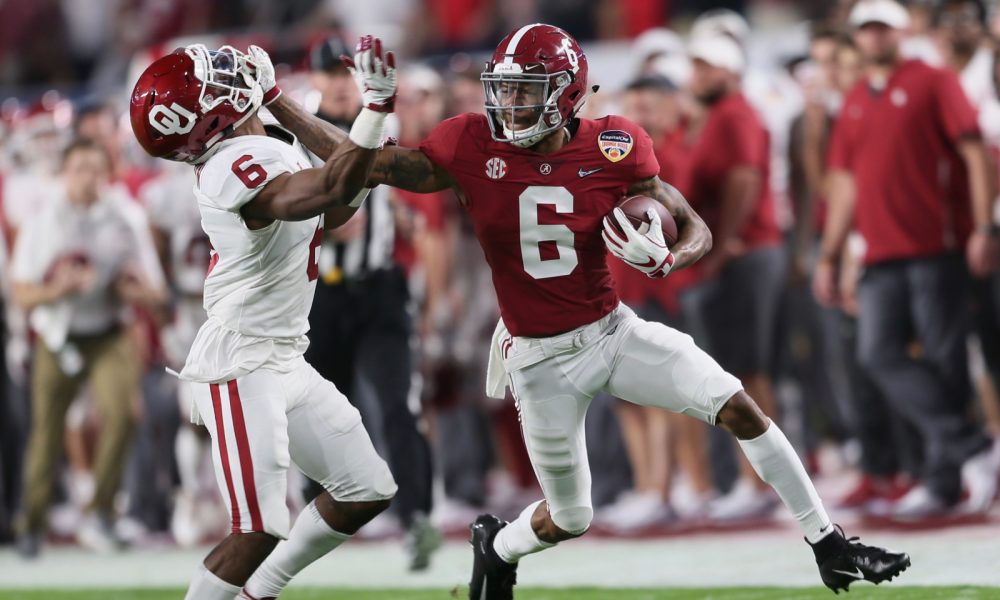 Pick #9: Miami Dolphins (via Houston) – DEVONTA SMITH (WR, Alabama)
They drafted Tua Tagovailoa 5th overall last year, so why not fill a team need by getting him one of his former receivers at Alabama? DeVonta Smith has been the best receiver in college football this season, and last week against LSU he showed why. Going up against Derek Stingley, a top cornerback in CFB and likely a top pick in 2022, Smith went off for 231 yards and 3 touchdowns on 8 receptions. He is a bit skinny at only 175 pounds and will likely need to gain a little weight before the combine, but his route running and ability after the catch is as elite as it gets. The Dolphins get a weapon and a familiar face for their young franchise QB.
Pick #10: Denver Broncos – CALEB FARLEY (CB, Virginia Tech)
Virginia Tech has 2 players drafted inside the top 10. Drew Lock has struggled, but he'll likely get at least another season to prove he can be their franchise QB. They have all the weapons they need on offense, with Courtland Sutton, Jerry Jeudy, Noah Fant, and KJ Hamler. Garrett Bolles has had arguably the biggest career revitalization of the year, going from complete liability in 2019 to one of the best tackles in the league in 2020. The defense, however, needs to be addressed. AJ Bouye is aging, and was just suspended 6 games for PEDs. Rookie Michael Ojemudia is a solid CB2, but they need a true lockdown corner, and that's what they're getting in Caleb Farley. Farley came to VT as a wide receiver, but was transferred to cornerback and has been elite off of pure athleticism. Once he learns the position, he'll be locking down receivers for a decade.
Pick #11: Washington Football Team – TREY LANCE (QB, North Dakota State)
Alex Smith has been the best story of the 2020 season. Guaranteed comeback player of the year, Smith has rebounded from one of the most devastating leg injuries in recent memory that almost cost him his life and is now back and leading the Football Team, and just took down the formerly undefeated Pittsburgh Steelers on Monday Night Football. However, Smith is not the long term answer, and despite how amazing his comeback is, he has no doubt been a below average quarterback. Dwayne Haskins, 2019 first round pick, has been relegated to 3rd string, and does not appear to fit in Washington. They finally find their future QB here in Lance.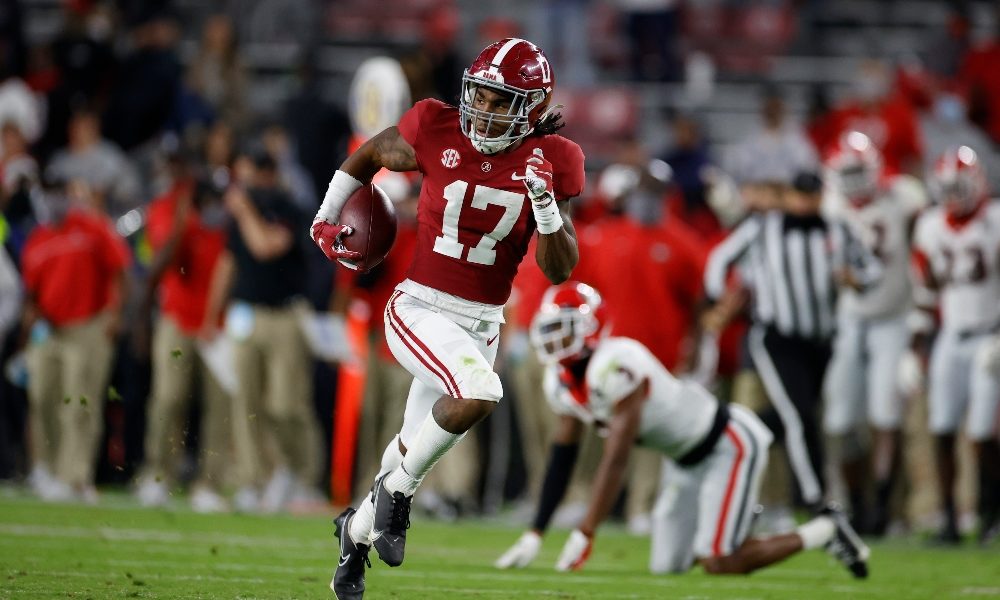 Pick #12: Detroit Lions – JAYLEN WADDLE (WR, Alabama)
Marvin Jones and Kenny Golladay are both free agents after this season. The Lions will almost certainly retain Golladay, but likely not Marvin Jones, who is into his 30's. They replace Marvin Jones here with an upgrade. Jaylen Waddle is the perfect combo of explosiveness and technique, and if not for an ankle injury might have gone a little higher than this. If his medicals check out at the combine and/or a pro day, Waddle would be the selection in this situation for a Lions team looking to replace Marvin Jones.
Pick #13: Chicago Bears – ZACH WILSON (QB, BYU)
Mitch Trubisky is a bust, and Nick Foles is not the answer. The Bears will likely lose Allen Robinson in free agency, so wide receiver is an option here, but with the top 3 all off the board a fresh start at QB makes the most sense. Wilson has had a tremendous, if not slightly undeserved, rise up draft boards, and he lands inside the top 15 picks in this mock draft.
Pick #14: San Francisco 49ers – JAYCEE HORN (CB, South Carolina)
With Richard Sherman himself saying he doesn't see himself with the Niners next season, they need to look to replace him. Jaycee Horn is an excellent corner, who can play man and zone at a high level and is a beast against the run. A hard-nosed tackler at the cornerback position who can also guard extremely well, as he showcased against Seth Williams and Auburn, is rare. Horn would be an upgrade over the aging Richard Sherman.
Pick #15: Arizona Cardinals – KWITY PAYE (EDGE, Michigan)
This is a home run pick for the Cardinals. They snag a borderline top 10 talent in the class at pick 15, and it solves a position of need. Outside of Chandler Jones, who is coming off a season ending injury and will be 31, the Cardinals have no edge presence. They solve this issue by snagging the most NFL-ready edge rusher in the class in Kwity Paye. Offensive line is also a major need, but you don't pass up on a value pick like this. Take Paye and solve the offensive line in rounds 2 and 3.
Pick #16: New England Patriots – KYLE PITTS (TE, Florida)
Back to back excellent value picks. The Patriots snag far away the best tight end in the draft at pick 16. Kyle Pitts has ridiculous speed for his position, and can win contested catches at an incredible rate. His elusiveness is also top tier. Pitts falling to pick 16 is unbelievable value, a surefire top 10 talent in the class, and it feels a need for the Patriots, who continue to trot out Ryan Izzo as the starter week after week. The Patriots draft a faster version of Darren Waller to help whoever is starting at QB in 2021.
Pick #17: Baltimore Ravens – JOSEPH OSSAI (EDGE, Texas)
This pick is contingent upon my belief that the Ravens will not retain Matt Judon or Yannick Ngakoue in free agency. If indeed they don't, they have a need on the edge, and Ossai is a perfect fit. It seems likely the Ravens will sign Ngakoue long term, but even more likely that they won't keep Matt Judon around. Ossai would replace Judon and fit right into that defense, and with his high motor and high football IQ he can be a leader from day 1.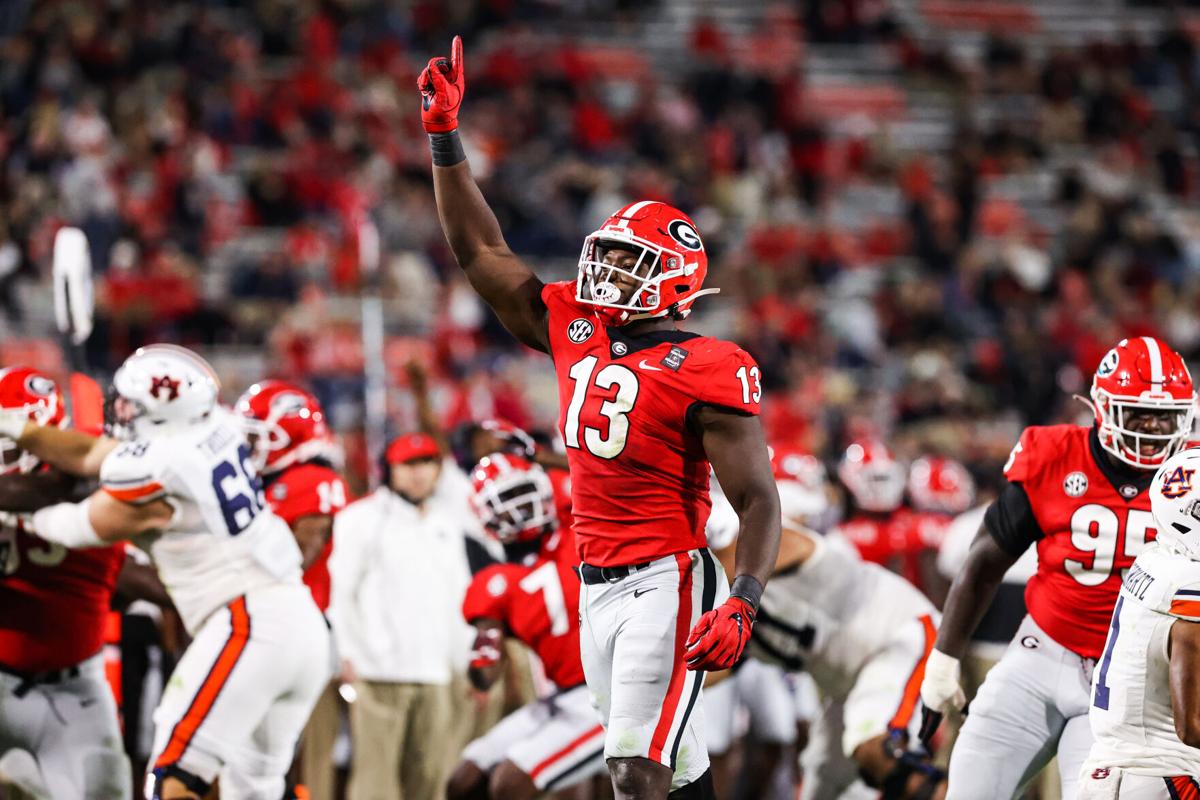 Pick #18: Las Vegas Raiders – AZEEZ OJULARI (EDGE, Georgia)
The Raiders have the 2nd least sacks in the league this season, behind only the winless Jets. Not good. Clelin Ferrell hasn't worked out, so they reach down the board here for the best edge rusher available to try to fix the issue. In a division with Patrick Mahomes, Justin Herbert, and (maybe) Drew Lock, pressuring the quarterback is a must. Take the best pass rusher available, regardless of big board ranking.
Pick #19: New York Giants – RASHOD BATEMAN (WR, Minnesota)
Sterling Shepard and Darius Slayton are a decent one-two punch, but Shepard is a bit injury prone and not very reliable. Darius Slayton is not a number 1 wide receiver, but more of a high-end number 2. With this pick, the Giants add a possible number 1 receiver or at worst another high end number 2 for Daniel Jones to target. Golden Tate is done, so add Bateman to get Daniel Jones a nice 3 headed monster similar to what Jared Goff used to have with Brandin Cooks, Cooper Kupp, and Robert Woods.
Pick #20: Minnesota Vikings – WYATT DAVIS (G, Ohio State)
The Vikings offense is run, quite literally, through Dalvin Cook and the running game. Pat Elflein didn't work out and was cut, so why not replace him with the best guard in the class? Davis is a physical, punishing guard who is dominant in the run game but also stout in pass protection. He can clear lanes for Cook while also keeping Kirk Cousins upright, and help solidify the interior of the offensive line along with 2019 first round center Garrett Bradbury.
Pick #21: Tampa Bay Buccaneers – JAY TUFELE (DT, USC)
Vita Vea is one of the best nose tackles in the league, but other than him the Bucs defensive tackle depth is as thin as it gets with Rakeem Nunez-Roches and 35 year old Steve McLendon as the backups. Jay Tufele can operate as a backup nose tackle or a 3-technique, and for a team that doesn't have many pressing needs at the moment, taking the best player available at a position of need is an easy decision.
Pick #22: Miami Dolphins – JEREMIAH OWUSU-KORAMOAH (LB, Notre Dame)
After addressing the offensive side of the ball in round 1, the Dolphins address the defensive side and add a linebacker to complement Jerome Baker in the middle of their defense. Owusu-Koramoah is a secure tackler who has tremendous speed and goes sideline to sideline with ease. His coverage skills are there, but he tends to get hyper aggressive in coverage and can give up large plays because he bites on a pump fake. All the attributes of a stud middle linebacker are there, it will just take the right coaching to get his mind there as well. Considering head coach Brian Flores was the Patriots Linebackers coach under Bill Belichick not long ago, I can't think of anyone better to teach him the mental side of the position.
Pick #23: Indianapolis Colts – KYLE TRASK (QB, Florida)
The Colts have one of the best defenses in the league along with one of the best offensive lines in the league. Young offensive studs like Michael Pittman Jr. and Jonathan Taylor were drafted last year. Now, they take their future franchise QB in Kyle Trask. Philip Rivers is once again a free agent after this season. They could choose to bring him back again on a 1 year deal to mentor Trask, or sit Trask behind Jacoby Brissett. Either way, they are giving Trask a year to adjust to the NFL and gain knowledge before being thrown into the fire. Continue to add pieces around him on offense and this team will have an extremely bright future.
Pick #24: Tennessee Titans – TERRACE MARSHALL JR (WR, LSU)
I don't envision the Titans resigning Corey Davis, especially with how deep this draft class is at the wide receiver position. They have their number 1 wide receiver in AJ Brown, now add Terrace Marshall to complement him and you have an unbelievable dual WR threat to go along with Derrick Henry, the best running back in football. The rich get richer.
Pick #25: New York Jets (via Seattle) – RASHAWN SLATER (OT, Northwestern)
Slater is a stud offensive lineman who can play tackle or guard. The Jets had bigger needs, but with the way the draft went taking any other position of need would have required a reach down the board. This would, in reality, likely be a spt where the Jets would trade down. However, in this mock draft, with Slater sitting there available, it made too much sense. The Jets can try him at guard, or maybe decide to cut George Fant, who makes $9 million a year, and slide Slater in to play right tackle. Either way, it improves the protection for the Jets new franchise QB Trevor Lawrence.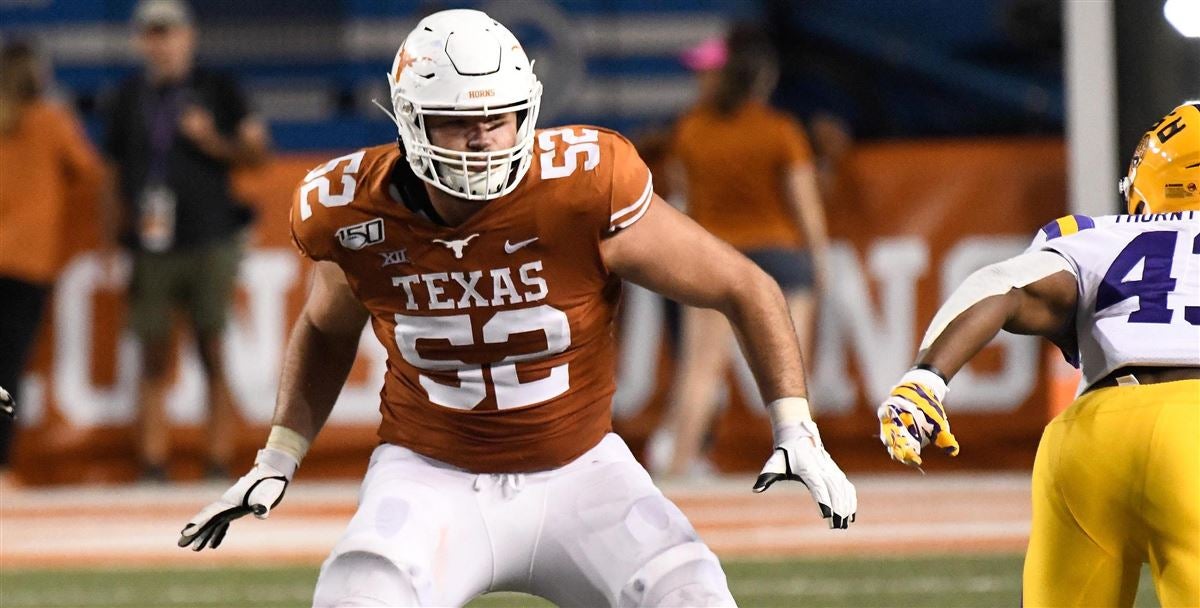 Pick #26: Jacksonville Jaguars (via L.A. Rams) – SAM COSMI (OT, Texas)
Left tackle Cam Robinson is a free agent, and isn't very good. They replace him with Sam Cosmi, who forms a young tackle duo with Jawaan Taylor on the right side. Justin Fields has young bookend tackles protecting him so he can focus on the coverage and not the pass rush. Jacksonville aims to keep their prized franchise QB healthy for a long time by adding one of the most NFL-ready left tackles to the offensive line.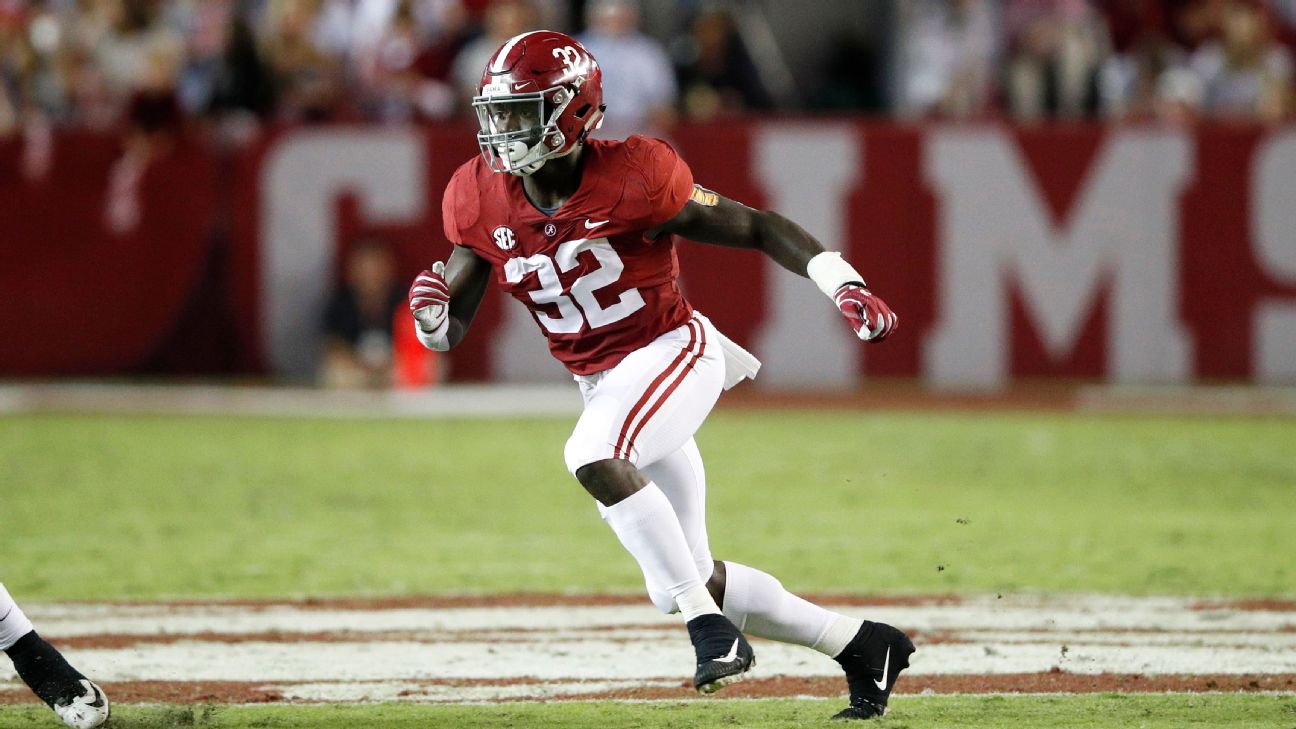 Pick #27: Cleveland Browns – DYLAN MOSES (LB, Alabama)
The Browns have basically a complete offense already. Their offensive line is amazing, they have the best running back duo in the NFL, and they have incredible pass catchers. Their defensive line is good as well. For a team with so few needs, why not take a linebacker who has learned under Nick Saban for the past 4 years? They lost Joe Schobert in free agency last March, so replacing him finally in 2021 is a must. Rock solid pick for the Browns.
Pick #28: Buffalo Bills – ERIC STOKES (CB, Georgia)
This could be a prime trade down spot if Buffalo is looking to add a wide receiver but doesn't feel like reaching. In this mock, they opt to take a solid number 2 cornerback in Eric Stokes to play opposite of Tre'Davious White. Stokes has been excellent at Georgia, and his skills should translate smoothly to the NFL level. One of the better defenses in the NFL gets a little bit better.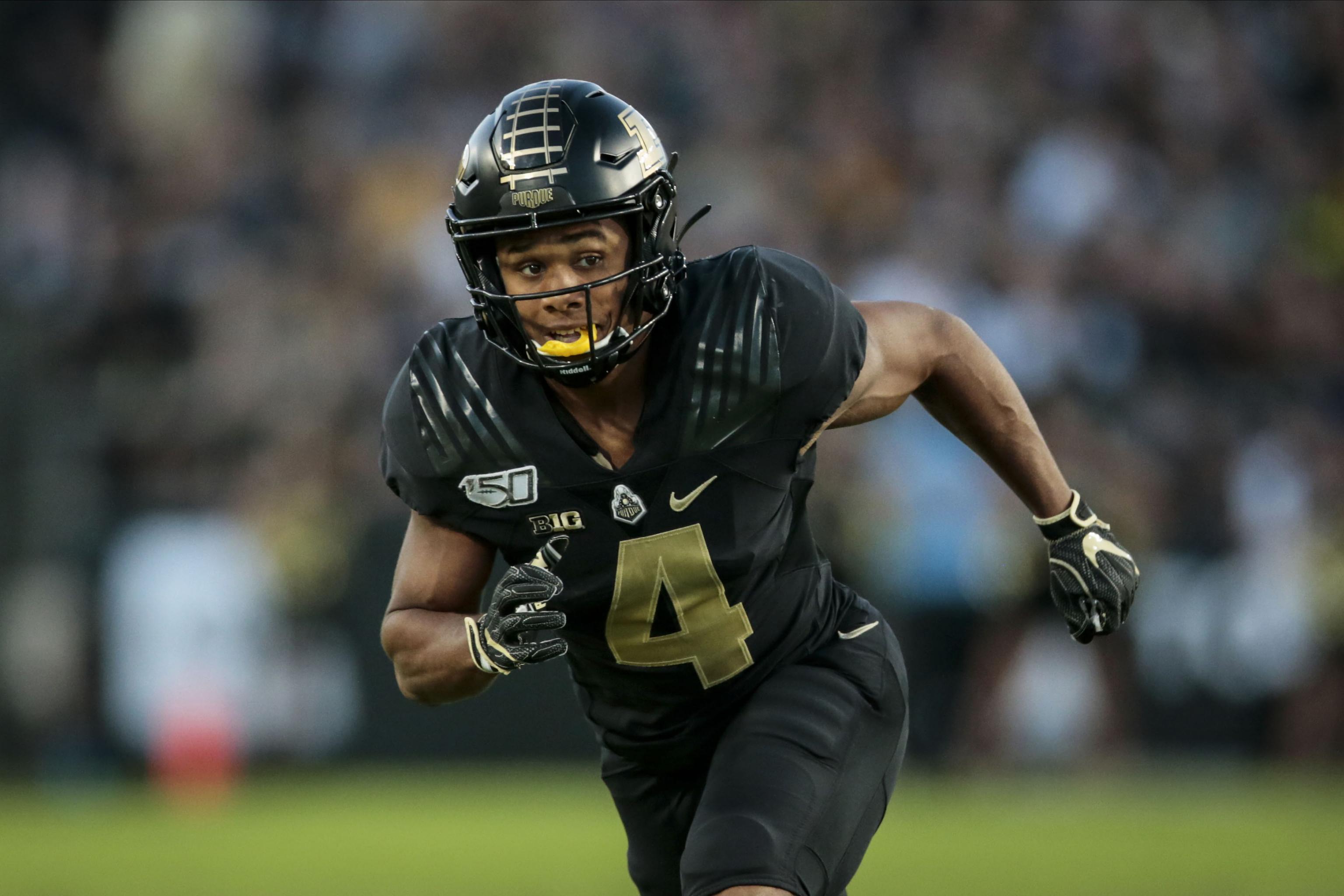 Pick #29: Green Bay Packers – RONDALE MOORE (WR, Purdue)
This is it. This is the year they finally do it. The Packers finally get Aaron Rodgers a weapon in the first round. We've seen that they want to get creative by signing Tavon Austin a couple weeks ago. Here, they get one of the most dynamic players in college football, and the best yards after catch player in the draft. They can really expand the playbook with the addition of Rondale Moore, and add yet another dimension to one of the best offenses in the sport, guided by a top 5 quarterback in the history of the NFL.
Pick #30: Kansas City Chiefs – ALIJAH VERA-TUCKER (G, USC)
There aren't many weaknesses for the defending Super Bowl champs. They have the best quarterback in the league, the best tight end in the league, and a top 5 wide receiver in the league. While their defense leaves something to be desired, they have to protect their $500 million investment in Patrick Mahomes. Laurent Duvernay-Tardif will be back in 2021 which solves right guard, but they are still in need of a left guard. Vera-Tucker solves that, and will help keep Patrick Mahomes as healthy as possible.
Pick #31: New Orleans Saints – MAC JONES (QB, Alabama)
Drew Brees is done. That much is clear to anyone who has watched the Saints. The question is, are either Taysom hill or Jameis Winston the answer for his replacement? The answer is no, they are not. Taysom Hill is 31, and is nothing more than a Trace McSorely type player. Jameis is not a starting caliber QB in the league. The Saints spend this pick on their future QB, who will enter into one of the best possible situations for a young QB. He will have Alvin Kamara, Michael Thomas, one of the best lines in football, and Sean Payton as his head coach. This is a match made in heaven for team and player.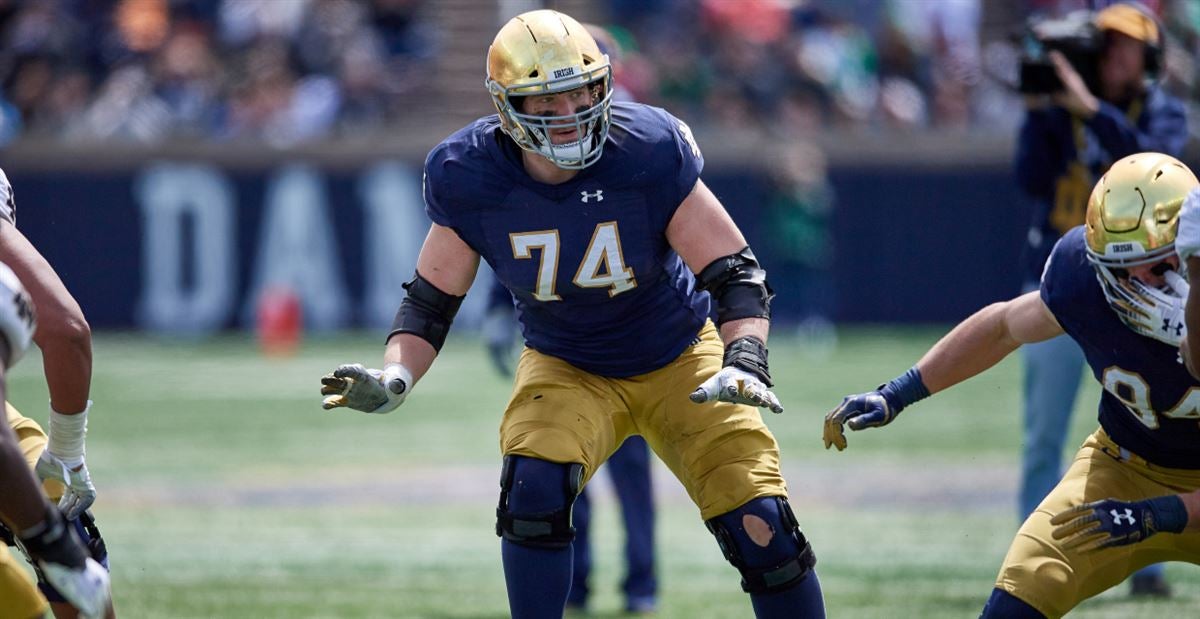 Pick #32: Pittsburgh Steelers – LIAM EICHENBERG (OT, Notre Dame)
There's a good chance that left tackle Alejandro Villanueva isn't back on the Steelers in 2021. So, with the last pick of the first round, they decide to immediately draft his repacement. Eichenberg is a semifinalist for the Outland Trophy, the award Penei Sewell won in 2019. Eichenberg is as good as it gets at left tackle, and there's a solid chance he rises up draft boards come draft day in April. However, for now, he falls right into the Steelers laps at pick 32 and they are ale to find a perfect replacement for Alejandro Villanueva.
This concludes my first mock draft of the 2021 NFL Draft. This draft process will be just as strange and unpredictable as 2020, if not even more. Nobody yet knows how the Combine is going to work, and if there are going to be Pro Days or not. We do know one thing, however; teams will be doing their homework on these players, preparing to make their dreams come true on April 29th.